What I love about presiding over weddings is that I get to relive my own personal dream over and over again, and no matter what ethnicity, beliefs, or age, each couple becomes a part of me and for one eternal moment we are family and we are home!
Rev Jenine Marie~~
Jason and Jennifer Exchange Vows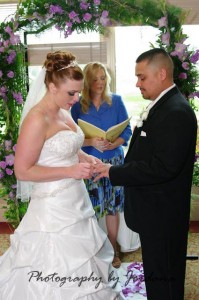 Photography by Jordana
Fill out the form below to request information and a quote for your wedding ceremony!
Presentation and professionalism is EVERYTHING. Please ask for what special additions are available and how they might add to your ceremony. Also couples are encouraged to choose the type of ceremony that suits them best. Your wedding officiant is the one who guides the ceremony and is one of the most important aspects of the ceremony itself besides the bride and groom! The "relationship" although a temporary one, is one that bonds couples together for life. This is a very special bond that is shared during the ceremony itself.
The video below displays actual couples married by Rev Jenine. The sample ceremony spoken is a standard ceremony used for the purpose of this video. Many different ceremonies are available to be customized for your wedding ceremony type!